finished 2015.05.30 Sat - 06.28 Sun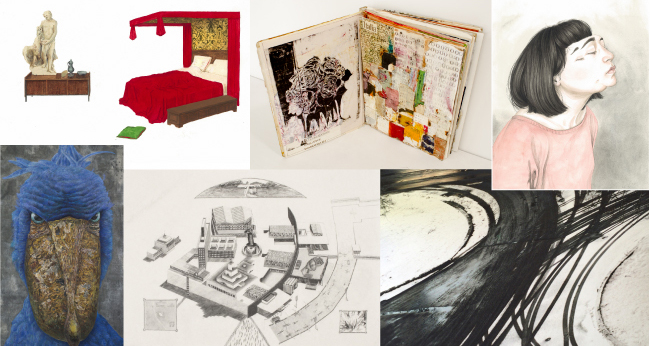 2015.05.30 Sat - 06.28 Sun
Wed.- Sat. 14:00 - 21:00
Sun.& Mon. 11:00 - 18:00
Closed on Tue

¥ 500(includes one drink)
日本人の若いアーチストに言われた事がある。「ギャラリーには行きません。いつも同じだから。」ショックな発言だ。
確かにアメリカみたいにギャラリーが力を持って才能を育て世界的スターにのし上げて行くような流行発信力は日本のギャラリーにはない。
しかし諦めるのはまだ早い。
私たちアツコバルーに集まった若い才能を見てほしい。ほぼ全員が20代前半、多摩美を出たばかりの若さで驚くべき成熟度の堀江栞。パリのボザール、大学院生のビアンカとジャンはコラージュとテンペラの手法で新しい表現を。旅の途中で出会ったポーランド人のマジェンは北国らしく雪の上でランドアートの記録。ニュージーランドのヘンリエッタはすでにマイアミのアートバーゼルに出展している活動的な作家。ポールはまだ20歳のストリートアーチスト。そして多作で多様なテクニックを使うカワニシタカヒ。
作家とコレクターを結ぶ橋渡しをする役が我々だ。是非、才能ハントに来てほしい、そしてあなたのコレクションの最初の一点にしてほしい。これら作家の現在と未来をあなたの人生のそれに重ねて行ってほしい。
2015年5月     アツコバルー
・Shiori Horie 堀江栞(日本)
・Henrietta Harris ヘンリエッタ・ハリス (ニュージーランド)
・Bianca Argimonビアンカ・アルジモン (フランス)
・Jean Claracq ジャン•クララク(フランス)
・Paul Galmicheポール・ガルミッシュ(フランス)
・Takahi Kawanishiカワニシタカヒ(日本)
・Marzena Turek-Gaśマルジェラ・チュレック(ポーランド)
◉ 5月30日(土)19:00~21:00 入場無料
オープニング・パーティー

◉ 6月13日(土) 19:00~21:00 アツコ•バルー トークショー  
ゲスト:カワニシタカヒ
・ 堀江栞 (日本)
1992年 フランス生まれ。
2014年 多摩美術大学美術学部絵画学科日本画専攻を卒業。
2015年 五島記念文化財団 第26回五島記念文化賞美術新人賞を受賞。第6回東山魁夷記念日経日本画大賞展に入選。
日本画界の期待の新人。
・ヘンリエッタ・ハリス (ニュージーランド)
1984年 ニュージーランド生まれ。
2006年 オークランド工科大学で美術学士取得。
2014年 アートバーゼルに出展。
ニュージーランドを拠点にオーストラリア、ロンドン、ニューヨークなど世界中で活躍中。
・ビアンカ・アルジモン (フランス)
1988年 フランス生まれ。
2011年 国立高等装飾美術大学を卒業。
2011-2015年 パリ国立高等美術学校(ボザール) 在学中。
ボザールで優秀賞も受賞した現役ボザール大学院生。
・ジャン•クララク(フランス)
1991年 フランス生まれ。
2014年 パリ国立高等美術学校(ボザール)学部卒業。
2015年 パリ国立高等美術学校(ボザール) 在学中。
現在ドイツに留学中の現役ボザール大学院生。
・ポール・ガルミッシュ(フランス)
20歳のフレンチストリートアーティスト。
・カワニシタカヒ(日本)
絵は色のつくものと面さえあれば成り立つ」をモットーに作品そのものに重きをおく。
国内外の展示を主にしながらも、ジャンルを問わず幅広く活動しフォーマットは面、立体、空間を問わない。
・マルジェラ・チュレック(ポーランド)
1972年 ポーランド生まれ。
1992年 ナウェンチュフの美術高校卒業。
2001年 ポーランドのクラクフ美術アカデミー卒業。
ポーランドで活躍中の人気アーティスト。

---
New Faces 2015 (melting pot of new talents)
Once a young Japanese artist said to me: "I'm not going to galleries anymore. It's always the same." A shocking statement. It is true, that Japanese galleries somehow lack the power to create new trends, to nurture talents and make them international stars, like American galleries do. Yet I think, its way to early to give up.
Look at the young artists we gathered at ATSUKOBAROUH. Most of them are in their early twenties. Horie Shiori, for instance, who just finished Tama Art University and for her age is astonishingly mature; Bianca Argimon and Jean Claracq, both graduate students at the Ecole des Beux-Arts in Paris, who show us new ways of expression with tempera and collages; Marzena Turek-Gaś from Poland, whom I've met while travelling, documents land-art - in a north-ish manner - on snow; Henrietta Harris from New Zealand is an active artist, who already exhibited her work at the Art Basel in Miami; Paul Galmiche is a street-artist, who just turned twenty. And finally, the prolific Kawanishi Takahi who, in his use of so many different techniques, reminds me of Ōtake Shinrō.
It is our mission to build the bridge, to connect artists and collectors. And if you are looking for new talents, this exhibition is where you will find them. Make their works the first in your collection. Make these young artists present and future a part of your life.
May 2015 Astuko Barouh


Opening Party on Saturday May 30th
19:00~21:00
Entrance Free
Atsuko Barouh talk show on Saturday June 13th
19:00~21:00
guest :Takahi Kawanishi
Shiori Horie
1992 Born in France.
2014 Graduated from Japanese Painting Course in Tama Art University,Tokyo.
2015 Awarded the the 26th Gotoh Cultural Award by the The Gotoh Memorial Foundation in the division of Fine Arts and was selected for the 6th Higashiyama Kai Memorial Nikkei Japanese style painting exhibition.
A promising new artist in the field of Japanese painting.
Henrietta Harris
1984 Born in New Zealand.
2006 Graduated from Auckland University of Technology with Bachelor of Fine Arts.
2014 Exhibition of works at the Robert Fontaine Gallery booth at SCOPE Basel.
Based in New Zealand she is works all over the world, mostly in Australia, London and New York.
Bianca Argimon
1988 Born in France.
2011 Graduated from Ecole des Arts Décoratifs of Paris (qualification DNAP)
Is currently enrolled as Graduate Student at Ecole des Beaux Arts de Paris (qualification DNSAP) , where she studies since 2011 and has received an award of excellence.
Jean Claracq
1991 Born in France, Live and work in Paris
2014 Graduated from Ecole des Beaux Arts de Paris(qualification DNAP)
Currently lives in Germany as an exchange student from the Graduate Faculty of Ecole des Beaux Arts de Paris.

Paul Galmiche
Twenty year old Street artist in Paris.
Takahi Kawanishi
Places emphasis on the artwork as such by defining its creation as something "that can be done if one just has some colours and a surface". Exhibits in Japan as well as internationally, but is active in a variety of fields, not limiting himself to one format or genre.
Marzena Turek-Gaś
1972 Born in Poland
2001 Graduated from MFA, Academy of Fine Arts in Cracow, Printmaking Department in Katowice, Poland, with a diploma in graphic design and painting.
1992 Graduated Secondary School of Fine Arts in Nałęczów, Poland, with a diploma in furniture design.