finished 2015.01.31 Sat - 02.22 Sun
Eric Photo exhibition「GOOD LUCK HONG KONG」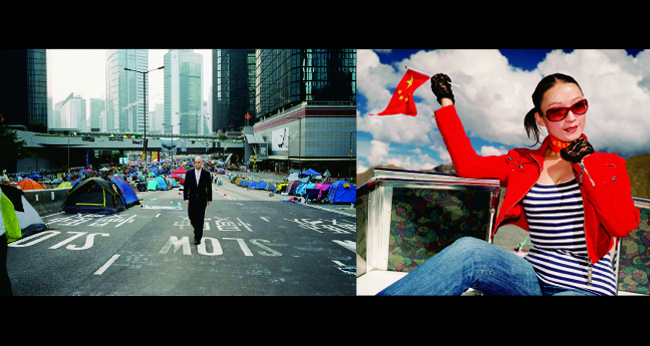 2015.01.31 Sat - 02.22 Sun
Wed - Sat 14:00 - 21:00
Sun & Mon 11:00 - 18:00
Closed on Tue

¥500(includes one drink)
中国・香港
アンブレラ革命から中国大陸へさかのぼる。
個人と群衆のエネルギーが炸裂する強烈な時代絵、かの地で起こっている事に我々は無関係でいられない!

アツコ・バルー
私の両親は、中国の文化大革命のとき、香港に密入国をして亡命した。
二人は結婚し、私は香港に生まれ育ったが、その家庭が生粋の香港人のそれと一緒と見なし得るかは正直分からない。
19歳になった私は、香港の中国返還の年に、この日本へ単身渡ってきた。
それから17年。香港で過ごした時期とほぼ同じ時間が過ぎた。
私は、中国人でも香港人でも日本人でもなく、しかし全く同時に、そのいずれでもあると...そう感じて今を生きている。
その私の世界ヴィジョンなのだ、写真は。

ERIC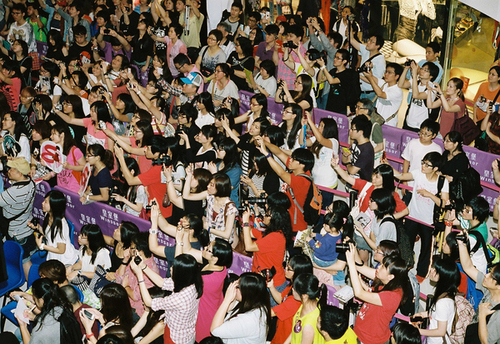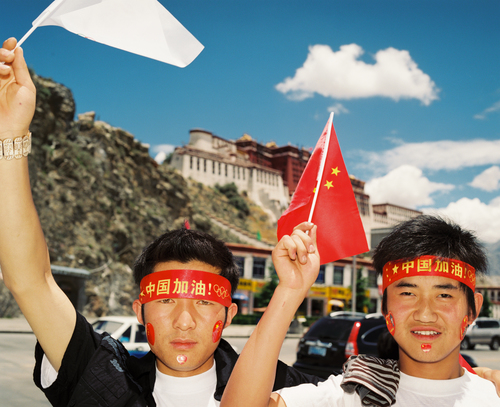 会場ではリム・カーワイ監督の撮影した香港の写真もスライド上映いたします。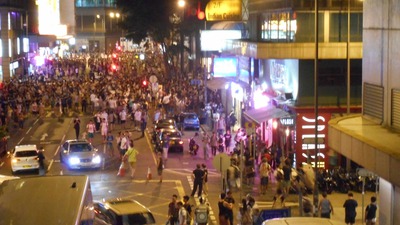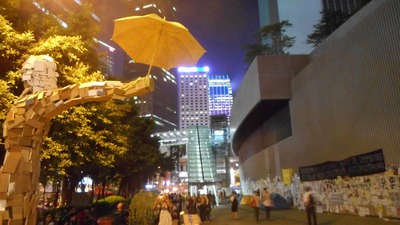 ◉ 1月31日(土)
■17:00~19:00 ERIC×大竹昭子 トークショー ¥500(1drink付)
■19:00~21:00 オープニング・パーティー 入場無料
◉ 2月14日(土)
■17:00~19:00 ERIC×星野博美 トークショー ¥500(1drink付)
・Eric (エリック)
1976年香港生まれ。
97年に日本語を習得するため来日。
「西村カメラ」で写真を学ぶ。
Eric site
・リム・カーワイ
映画監督。マレーシア出身。大阪を拠点にして東アジアを往来しながら映画製作を行う。
代表作品:「アフター・オール・ディース・イヤーズ」、「マジック&ロス」、
「新世界の夜明け」、「恋するミナミ」など。
・大竹昭子
・星野博美
写真家・ノンフィクション作家。『転がる香港に苔は生えない』で大宅壮一ノンフィクション賞。『コンニャク屋漂流記』で読売文学賞随筆・紀行賞。『のりたまと煙突』『島へ免許を取りに行く』『戸越銀座でつかまえて』、写真集『華南体感』『ホンコンフラワー』など。
---
'What is Happening in Hong Kong Now? - Emergency Photo Report by ERIC!', a talk show with ERIC and Akiko Ohtake, took place at Saravah Tokyo, in the basement of this building in November 2014.
Slides of his photographs were powerful, vividly depicting the young people of Hong Kong fighting the government.
ERIC is a photographer. Slides do not do justice to his photographs. I thought it was important for people to see his photographs as prints.
Though the demonstrations have ended, the events in Hong Kong questioned the world of money and power. It made me fully realize that the issue affects us all.
ERIC's parents were born in China. During the Cultural Revolution, they smuggled themselves into Hong Kong where ERIC was born. The year Hong Kong was handed back to China, he was 19 and not wanting to see Hong Kong 'becoming' China, he left for Tokyo on his own. 17 years have passed since and the young man who was not particularly interested in photography is now a photographer. He travelled to China, India and Hong Kong with his camera.
This exhibition is made up of photographs taken in China in 2006, and in Hong Kong last year. In 2006, he decided to see China, a country which he had a prejudice against, for himself and travelled to many parts of the country. Then, the recent demonstrations took place and he was dragged back to Hong Kong, a place where he has not photographed before.
ERIC is not taking photographs to show you what China or Hong Kong is like. Through taking photographs, he asks himself 'who am I?". He is not Chinese, nor from Hong Kong. He is not Japanese either. His vision (photographs) results from all of
these places combined. I hope you can get the sense of him warmly watching over his homeland, though at a distance, as if to say 'GOOD LUCK!".
GOOD LUCK ERIC!
The exhibition will also be accompanied by a slide show of photographs of Hong Kong's Umbrella Revolution taken by a film director, Lim Kah Wai.
January 2015, Atsukobarouh arts drinks talks.
-------------------------------------------------------------------------------------------------
My parents fled to Hong Kong from China once they were adults. I was born and bred in Hong Kong and came to this country, Japan, at the age of 19. It has been 17 years passed since and I am about to catch up with what is happening in Hong Kong.
I have never been a Chinese person and no longer a person from Hong Kong. I am not Japanese either. I visited China. I returned to Hong Kong and once again I come back to Japan. As I repeat these journeys, I really get the sense that I am Chinese, from Hong Kong and Japanese all at once.
For me, what makes a person standing in front of me a human appears to be made up of three things, combined in a three-dimensional manner: common factors we share as humans; national characteristics; and personality.
As a photographer, I wait for a moment when a subject, including his or her world, appears most like himself or herself and take a snap shot, presenting the subject in a non-explanatory manner.
If I take a photograph of a single person, it is the person's character, and if I take a photograph of a crowd, then it is the character of the nation, which emerges in front of the three dimensionality of the subject.
Either way, I want to enable the person to emerge vividly in the picture.
ERIC