finished 2014.03.12 Wed - 04.07 Mon
Shoji Ueda, 101 Years On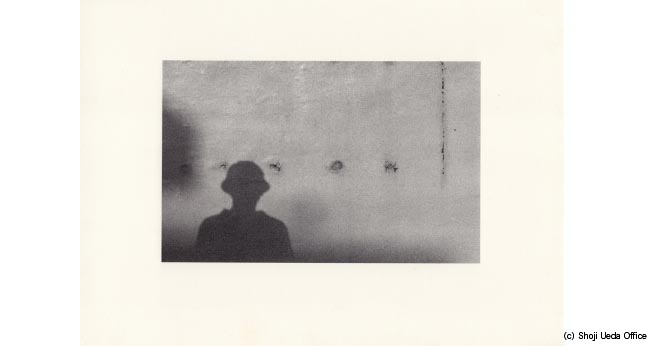 2014.03.12 Wed - 04.07 Mon
Wed - Sat 14:00 - 21:00
Sun -Mon 11:00 - 18:00

closed on Tues
¥ 500(with a drink)
 1983年、最愛の妻の死とともに、写真に対する意欲をも喪失していた植田正治が「写真する遊び心」を取り戻す一つの契機に『軌道回帰』(1986年私家版刊行)がありました。当時、発売されたばかりのポラロイド社 35mmフィルムに刺激された植田はこのシリーズに新しい方向性を探り、「内省的な風景」を刻み込みました。
 植田の代名詞ともいえる砂丘で、戦後一世を風靡した絵物語作家、山川惣治を撮影した幻想的な作品を併せて展示、植田正治101年目のはじまりを記念する展覧会です。
オープニング・レセプション
2014年3月13日(木)19:00 〜 21:00
(展覧会初日ではないのでご注意ください)
Shoji Ueda, 101 Years On.
「『軌道回帰』という題名は、昨今のセミプロ的撮影を離れた、昔のアマチュアとしての撮影を楽しんだ、というつもりの名称です。」(植田正治)
 1983年に愛妻を失い、写真に対する意欲をも喪失していた植田正治をモードや広告写真の世界へ導き励ましたのは、グラフィック・デザイナーであった息子の充だった。写真家・植田正治の新しい世界は、大きな驚きと称賛をもって迎えられ、次第にコマーシャルの仕事が増えていく。
 『軌道回帰』は、「生涯アマチュア」を自称していた植田正治が本来の「アマチュア精神」に立ち返る、すなわち自らの「軌道」を「回帰」するために撮影されたシリーズで、1000部限定という私家版で発表された。
 この撮影に使用されたポラロイド社の35mmは、専用プロセッサーで処理すると、撮影後短時間でポジが出来上がる、当時としては画期的な製品であった。「ついつい新しいかっこいいカメラに心を動かされるのです」と語っていた"新しもの好き"の植田は、この新しい"玩具"を手に身近なものにカメラを向け自分の世界に没頭していった。
 今回の展示は印刷によるものだが、これは1986年の出版当時開催された展覧会にならったものである。「あえて印刷による展示にしたことも、あまりやられたことがないという、私自身の前向き、というよりモノ好き的性格のなせるワザであります。」と植田正治は語っているが、やや眠い発色になるこのポジは、プリントにおこして提示するより印刷によってこそ、その美しさが際立つ、という写真家としての本能が敏感に働いたに違いない。

---
After his beloved wife passed away in 1983, Shoji Ueda even lost his interest in photography. Kido kaiki (Return to Orbit, 1986, self-published) was one of the turning points for Ueda in rekindling his sense of playfulness for 'doing' photography. Excited by Polaroid 35mm film, which was introduced around the time of his wife's death, Ueda explored new possibilities through this series of photographs, carving out introspective scenery.
The exhibition celebrates the start of 101st year since Shoji Ueda's birth and will also include his dreamy portraits of Sohji Yamakawa, a picture-story show artist who was very popular just after the Second World War, shot in Ueda's trademark setting of the sand dunes.
Shoji Ueda, 101 Years On.
Kido kaiki (Return to Orbit)
"The title, Kido kaiki (Return to Orbit), is a way of referring to the times when I used to enjoy taking photographs as an amateur in contrast to my recent semi-professional photographic works."
Shoji Ueda
When he lost his beloved wife in 1983, Shoji Ueda even lost his interest in photography. It was his son, Mitsuru, who was a graphic designer, who encouraged and led him into the world of fashion and advertising photography. The new world of Shoji Ueda - the photographer, surprised many and was well received, gradually leading him to take on more commercial work.
Shoji Ueda was a self-professed "life time amateur" and Kido kaiki was meant as a way for him to regain the "amateur spirit". In other words, it was a photographic series for him to "return" to "orbit" and was privately published as a limited edition book of 1,000 copies.
35mm film by Polaroid, which was used for shooting the photographs for the book, was an innovative product at the time. Using a dedicated processor, the positives were ready in a short time after the photographs were taken. Ueda liked new things and said that "somehow, I am moved by cool new cameras". With this new "toy", he photographed things around him and was able to lose himself in his own world.
This exhibition is of prints (as opposed to photographic prints), which follows how the works were presented in the 1986 exhibition at the time of the bookユs publication. Ueda said that ヤto exhibit prints is something down to my curious nature rather than down to being innovativeユ. Since the positives from these films, comes out slightly dull when developed, he must have instinctively thought that rather than presenting them as photographic prints, their beauty is further emphasized when they are presented as prints.