finished 2013.11.27 Wed - 12.07 Sat
TAGAMI Masakatsu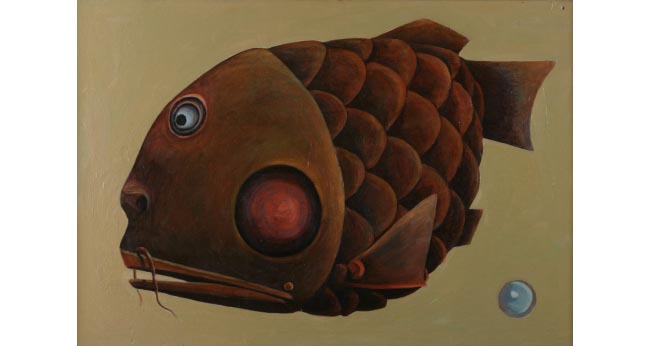 2013.11.27 Wed - 12.07 Sat
Tue - Sat 14:00 - 21:00
Sun - Mon 11:00 - 18:00
¥ 500(with a drink)
「絵が追いかけてくる!」30代のTAGAMIは夜もろくに眠らず大作を描き続けた。イメージが次から次へと沸いてきて彼を責めた。という。そんな狂気に近い時代に彼は絵画の中に空間を作ること。色彩と構成を手なずけることを独学で学んでいった。あまりに作品が多く、また誰も彼の才能に気がつかず、彼はそのほとんどを捨ててしまった。残された一部が今ここにある。
私達が2003年、博多の画廊香月で渡されたカラーコピーにある絵の本物を見たい。と頼み込み二年後やっと訪れることができたTAGAMIの生家で納屋の中から庭に運び出された作品群。古い農家の庭先に並べられた絵画は別世界から来た贈り物のように初夏の太陽を浴びて色を放っていた。たぶん隣の人もその存在を知ることなく蜘蛛の巣に覆われ30年が経っていた。ここで滅びさせてはいけない。きれいに保管して、多くの人に見てもらわなくてはいけない。感動を多くの人と共有したい。その一心で作家から預かりました。今回その一部をご紹介します。

---
"The pictures were chasing me around!"
Tagami, in his thirties, sleepless and driven, pressed on to create some of his greatest works.
The images came gushing forth one after another. 
Or so he says...
Yet, in this nearly deranged state, he managed to train himself in the fine tuning of color, composition, and space.
Because there were so many works and no appreciation from the public, most were thrown away. The few that remain are here now.
In 2003 at the Kagetsu Gallery in Hakata we first saw a Xerox of one of these works. After pleading for two years we were able to see some of the actual paintings at last.
Taken from a shed behind his parent's home and set out in the yard, the paintings arranged by the old farmhouse were like a gift from another world, gleaming with color in the early summer sun.
The works had been sitting there in the shed for 30 years, covered in spiderwebs, unknown to the people all around.
We invite you to share in the inspiration in an exhibit of a select group of these works, preserved and cleaned, with the hope that they will now be appreciated by many people.