finished 2013.05.01 Wed - 05.12 Sun
Fest*LAB! vol.3 "Adventures of Ordinaries"
Maki-sushi Art : Tama-chan x Cardboard Sculptures : Genta Honnoh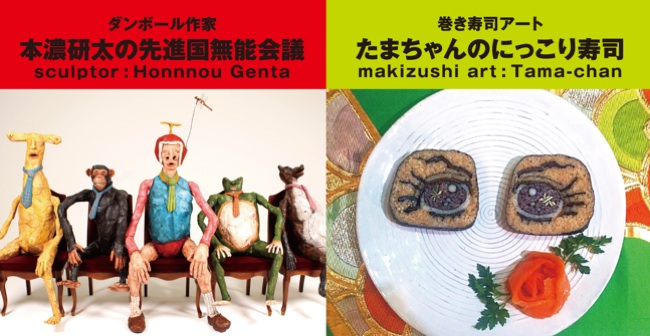 2013.05.01 Wed - 05.12 Sun
14:00 - 23:00
¥ 500(with a drink)
平凡が非凡に変わる!?
身近な素材だからこそ私たちの心をざわつかせる
これってなんだろう?
巻き寿司アーティストたまちゃんのワークショップ
イラストレーター清田貴代さんが、見事なのり巻き技をご披露して、みなさんも一緒にのり巻きを作ります。
5月3日・4日・5日
15:00- デモンストレーション 16:30 - 17:30 ワークショップ
参加費:3500円(材料費含む)10人限定、予約優先
本濃研太の「先進国無能会議」
震災後、本濃研太が怒りのままに挑んだ大作「先進国無能会議」を、東京で初めて発表します。頭を駆け巡る思いは、コトの深刻さとは裏腹にユーモラスな動物や人の形の段ボール彫刻に生まれ変わりました。会期中は、作家がその場で作品を作っています。

---
Cardboard and rice are ordinary materials which can be found all around us. ATSUKOBAROUH arts drinks talk are introducing 2 emerging artists whose works are made of such mundane materials turned into something completely different.
Takayo Kiyota (aka Tama-chan) creates maki-sushi (sushi roll) inspired by her feelings or places around her. Eros, poop or famous paintings are turned into rice rolls in her hands. But they are all eatable. Some may get a little confused to eat an art piece, some would eat it without giving it a second thought. Making, Looking, and Eating - her art elicits participation from audiences. Rolled sushi that challenges us by posing question - Shall we eat the art or not eat?
Genta Honnoh began to create his sculptures made of cardboards because it doesn't cost much money to make them. After Great East Japan Earthquake, he realized that his works should also confront society and politics, and he made the work "World Incompetent Summit". His works are exhibited for the first time in Tokyo; they were previously shown in Tohoku in 2012.